Grand Rapids | Come Dine With Me
Frank Sinatra is my favorite. I insert him singing lines whenever possible (see title above).
A question that I get a lot (and love) is what people should do when they are in Grand Rapids. I love sending out personalized lists of must sees/eats/dos and figured I would capture some of my suggestions and share them here.
It's so exciting to see the development that's taking place in the city right now particularly in the food scene. People seem to be more conscious about the importance of contributing and supporting local economy when it comes to eateries. In that spirit, I am rounding up some of my favorite restaurants for you to try. This is by now means an all inclusive list (we might need a round 2/3 for this topic) but wanted to share an initial handful with you. For each I will share their location, my fave item(s) to order and a bit about the vibe.
Be our guest…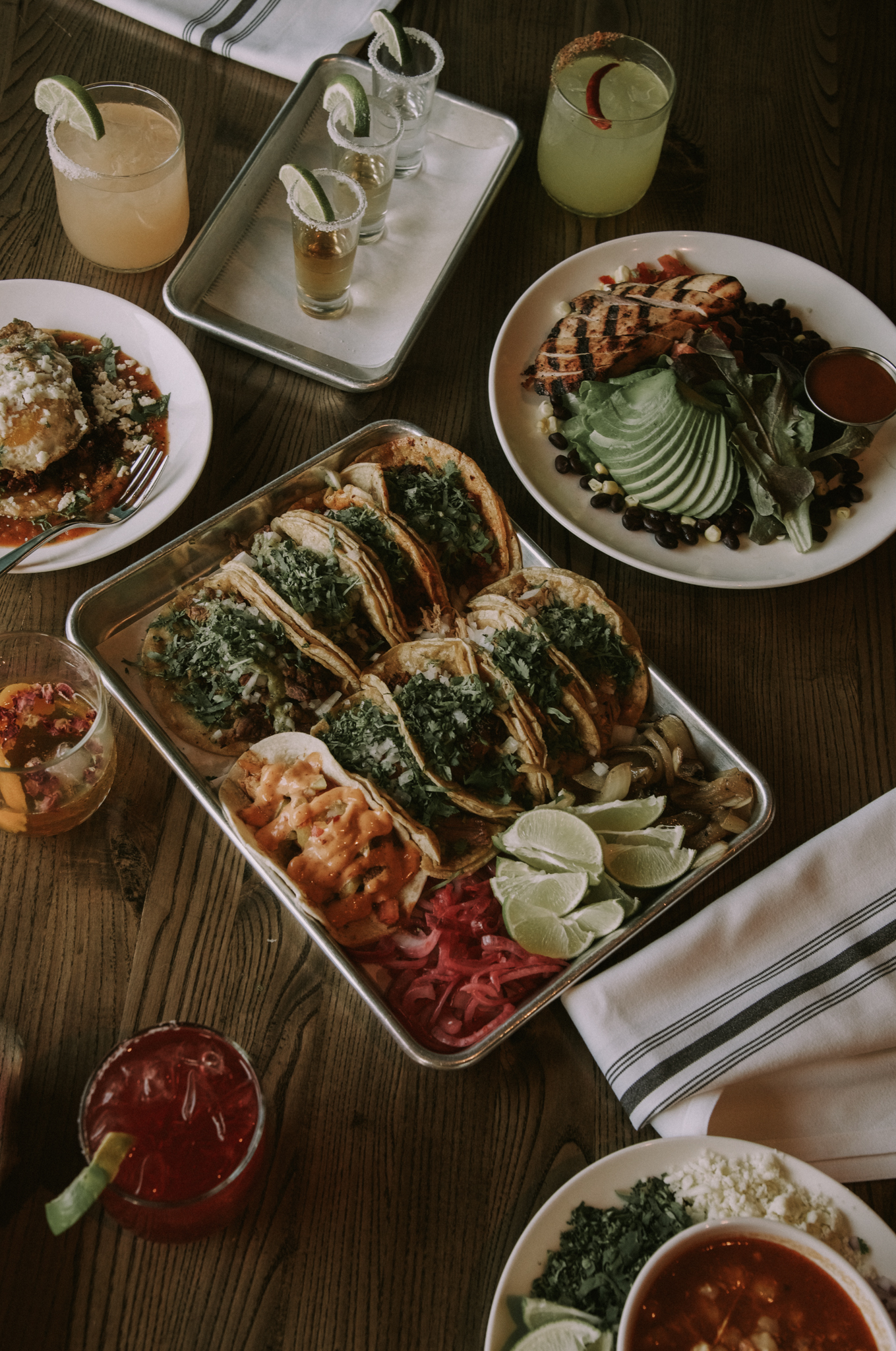 64 Ionia Avenue SW, #100

Luna is one of my favorite spots in town. Delicious food (check), out of this world margs (check). Luna is always a good idea if you are in the mood for some authentic, locally focused Mexican cuisine.


• DON'T MISS OUT ON: Salsa flight, tacos, any kind of tacos…

• ATMOSPHERE: The owners took great care to ensure the aesthetic and overall feel of the space. Statements like the black and white tiled bar showcase intentional (but non-fussy) design.

• TIP: Visit on a Monday and enjoy 1/2 off their margaritas! Score.

438 Bridge Street NW

Butcher's Union is always on my list of suggestions for visitors (or locals) looking for a great spot to eat. The menu has a little of everything and their whiskey selection will leave you ready to dig into great conversation with a glass of goodness in hand.


• DON'T MISS OUT ON: Brussel sprouts, cheeseburger and handcut fries.

• ATMOSPHERE: Dynamic. Chic. Leather. Touch of glam. Perfect for your next girl's night or fun date.

• TIP: Their happy hour is one you won't want to miss. Make sure to ask for the pimento cheese which is only available during this time if you want your life to change thanks to a cheese.
35 Oakes Street SW

This french brasserie New Hotel Mertens is one of my favorite dining experiences in the city. When people mention they are looking for a true experience or somewhere special, this is my first suggestion. It's modern sophistication with history sprinkled in…talk about charming.
• DON'T MISS OUT ON: Tough choice but I'm going to say either the Croque Madame with frites or the Seared Scallops.

• ATMOSPHERE: I had the pleasure of meeting the owner during the renovation process. They were taking great care to preserve the history of the space to ensure that the rich textures, colors, and atmosphere were preserved. He shared that the manager from the hotel had stopped in and shared insights on the building and history of the establishment. From the beautifully pattered tile to the mismatched tables lining the banquette, this restaurant is chic from top to bottom.

• TIP: New Hotel recently opened a bakery and coffeeshop that is worth the stop. During the day, you can grab a cup of tea and a croissant and watch the world go by. In the evening, the spot to be is Haute which is their rooftop lounge. There's nothing like grabbing a cocktail while you sit around a fire and take in Grand Rapids' growing skyline.
1157 Wealthy Street SE

At the time that I'm writing this, Hancock is the new kid on the block. The owner is no stranger to the Grand Rapids food scene and you can tell. Everything from the design to the food itself is g-o-o-d.

• DON'T MISS OUT ON: The chicken. Clearly. It's their thing. The sides are all phenomenal but the chicken really is the star of the show. Know that it lives up to its name of hot chicken…prepare for some spice. You can request the level you would like.

• ATMOSPHERE: I love the bright, airy feeling that the achieved inside with lighter finishes, gobs of natural light, and the appeasing combo of fire red and a bright blue. My favorite aspect? The fact that by the bathroom instead of a mirror is tile that reads: you look good. Hearts.

• TIP: When the weather is nice opt to eat outside! They have turf for a patio with tables and umbrellas. Or, bring a blanket and picnic it. Who doesn't want some fried chicken al fresco?!

537 Leonard Street NW

Long Road Distillery is nestled on the west side of Grand Rapids. They are most known for their spirits and delicious cocktails, but they have a menu that can hold its own.


• DON'T MISS OUT ON: Fried biscuits-served with green onion, pimento cheese, and some jalapeno honey which is the perfect kick.

• ATMOSPHERE: Their dining room mainly consists of rounded half booths and long community tables. While you dine you can keep an eye on what their brewers are up to through their glass viewing area. They have found a perfect balance: no frills but still refined.

• TIP: You might not think it but this is one of our favorite spots to work on Friday afternoon. They have some crazy happy hour specials so we will belly up to the bar with our laptops and have a cocktail as we finish out the week!
201 Monroe Avenue NW

If wine, great atmosphere, or delicious food are of interest to you, Reserve should be at the top of your list. Neighbors to the iconic Amway Grand Hotel, this is one of the city's treasures.

• DON'T MISS OUT ON: Cacio E Pepe pasta, Cheeseburger (pickled onions AND Dutch crunch bun are a 1-2 punch), and their customizable charcuterie boards.

• ATMOSPHERE: The winning piece of the first ArtPrize hangs proudly above the bar at Reserve. Open Water No. 24 from a New York based artist Ran Ortner sets the tone for the rest of the space. It's modern but warm, sophisticated but approachable. One of my favorite spots is on their patio which is right on the sidewalk in the heart of town. There's something relaxing about relaxing with some wine while the bustle of the city surrounds you.

• TIP: While lunch here is delightful, my suggestion would be to visit at night. Whether you sit inside or outside it's a win. Inside, the piece above the bar is illuminated in a magical way while outside, the lights and sounds of a city at play surrounds you.
547 Cherry Street SE, Suite C
If you are looking for unique atmosphere and creative comfort food, look no further than The Commons. You feel like you have stepped into an episode of That 70's Show or some cool retro music video in a nostalgic, charming way. The last time I was there, an older gentleman in a trench coat and a fedora was enjoying a whiskey at the bar. Does it get cooler than that?
• DON'T MISS OUT ON: Prime Rib Tots, Shaved Brussels Salad, Avo Toast, a n y of the throwback cocktails.

• ATMOSPHERE: There are various seating areas from your standard table to a spot that is set up like a living room in the most retro, glorious way. Mismatched chairs, vintage glassware, and 60's/70's decor are sprinkled throughout to add to the retro feeling.

• TIP: Lunch, dinner, or drinks you can't lose. Lunch is a lighter crowd so you can have your choice of seating. Dinner has a great vibe inside and out. Drinks at the bar or on their patio in the Spring/Summer are a delight.
665 Wealthy Street SE

Tacos, please. Donkey is one of my favorite spots in town. From the laid back vibe to the delicious food, it's a place that will settle in you and make you want to visit again.
• DON'T MISS OUT ON: Carnitas tacos, chips and guac, Prickly Pear marg, Aqua Fresca (typically changes daily).

• ATMOSPHERE: Imagine a good party that you have been to…that is what Donkey feels like no matter what time of day. Garage doors open to the outside, impressive bar standing as an anchor for the space, high top tables scattered throughout reminding you that you're there for a good time. It's non-fussy, happy dining at its best.

• TIP: Make sure to travel through their taco offerings. From carnitas to brussel sprouts to ground beef their unique combos are de-licious.
Again, this isn't close to a full rundown of the best spots to eat in Grand Rapids but hopefully this gets you started. Excited to hear from you if you try some of these places. Feel free to message me if you need a suggestion or want to know what to order…
Bon appetit!
Sincerely,
Ashley