Travel Tips: Outfit Planning (South Carolina Edition)
When in South Carolina, you wear dresses (and white mules, apparently).
I can't say enough about our time in Hilton Head/Bluffton/Savannah. It's a magical region where the seafood is better, weather is beautiful, and smooth Southern accents lull you as you check out at the store or are greeted by your waitress.
Before leaving, I checked the weather and found that we were about to get a bit of everything. A few 80 degree days, a storm, rain, and some cold. Road tripping allowed me to pack more than usual, but also meant that we were going to be driving through areas that Aslan hadn't granted Spring to yet (aka the White Witch was still reigning supreme). I wanted to share more about the outfits that I took, the why behind them, and hopefully share some helpful tips for any trips you have coming up.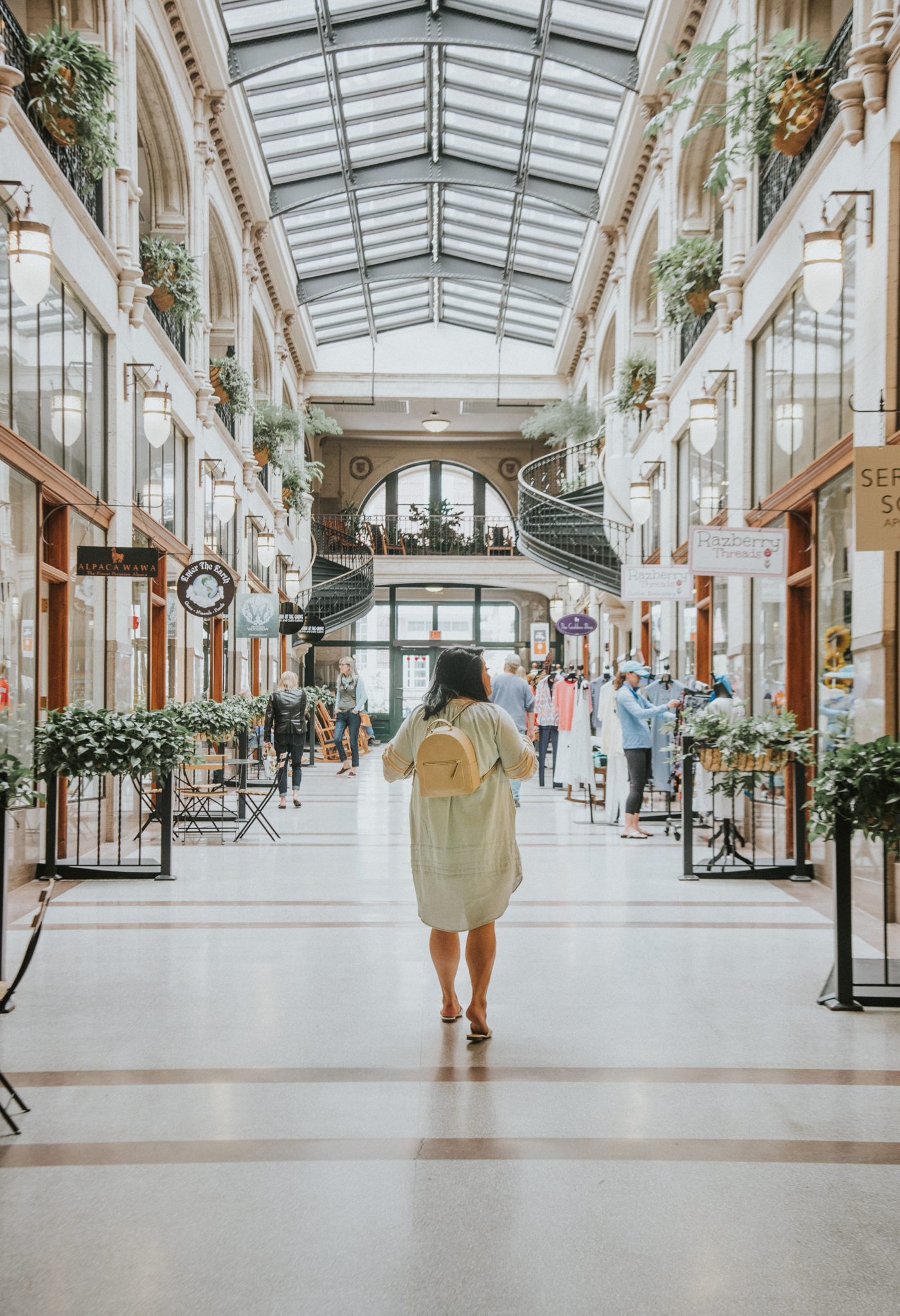 Half travel, half touristy.
On the way to our destination, we stopped in Asheville, NC for the night. The next morning we planned to check out the town a bit and then continue on to South Carolina which was about (a little under 5 hours in the car). The weather for the day we were there was supposed to be cool in the morning with some rain followed by some nice sunny weather in the afternoon. I opted for this long sleeve Free People dress. Comfortable, casual, but cute enough not to scream 'I'm going to be sitting in a car later so I didn't care'. The long sleeves with the shorter length was a perfect balance for the weather.
Tip #1-For days where you are going to explore an area and do some good ol' tourist activities but travel later, go for an outfit that's comfortable but functional. No one wants to be sitting in the car for 4 hours in discomfort.
PS-One of my favorite travel accessories is a good backpack. Stick with a neutral color that will pair well with any outfit. They're great for holding your stuff while allowing you to be hands free/without the hassle of lugging a heavy purse on your shoulder.
I found this tiered babydoll dress at Target (I can't find the exact one but this one is quite similar) when I was there grabbing some toiletries for our trip. It's nothing fancy but I like a good babydoll dress for certain occasions. I wore this the afternoon we arrived and went to do some initial exploring of the town. We wandered the grounds of an old church and drove through some beautiful tree lined streets.
Tip #2-No matter where you're headed, always make sure to take some kind of a black dress along. It really is a classic and a great basic to have on your trip. One of my favorites is to add a neck scarf to a LBD for a simple but impactful outfit.
PS-Can you ever have enough black dresses? Yes. Be selective, but if you find one that suits you make sure to snag it. I have never regretted a black dress purchase.
Good ol' wandering shoes.
We set aside one of the mornings in Bluffton for some wandering around town. It was a warmer day so I knew I wanted something short sleeve. This striped dress from Old Navy was the winner. I paired with a simple necklace and gladiator sandals since it was a pretty relaxed day.
Tip #3-Save the sandals and cute shoes for days where you know you aren't going to do a ton of walking. This wasn't a pound the pavement kind of day since the town itself is not that large. Save your outfits that require this kind of footwear for days like this. Your feet will thank you later.
PS-If you are trying to be conservative with space, a neutral necklace that you can use with multiple outfits is great. I found this one with a single wooden bead at a local shop here in Grand Rapids and have brought it on many trips when space has been precious.
This was one of my favorite outfits from the trip. On one of our travels to Savannah, we had a few shops and cafes on our list. It was a day that was ping-pong-ing in temperature so I thought this A New Day striped blazer and matching shorts was a good solution. I paired with an easy J. Crew graphic tee that I got right before the trip. Happy colors list different names of gelato because…why not? My go-to white mules and a neutral backpack finished the ensemble. We ended up at the Paris Market for a treat and a drink which ironically had striped awnings that matched the blazer and shorts. Serendipity.
Tip #4-Think outside the box when it comes to your travel outfits. Functionality and comfort doesn't have to look like tired shirts and pocket laden cargo shorts. While this looked polished, it was one of the most simple and comfortable outfits I wore on the trip.
PS-Blazer/short sets are my JAM. I used to wonder about the when/where/why of them but now that I have a couple they're one of my top choices for Spring and Summer weather. If you see a good blazer and shorts combo for sale, let a girl know.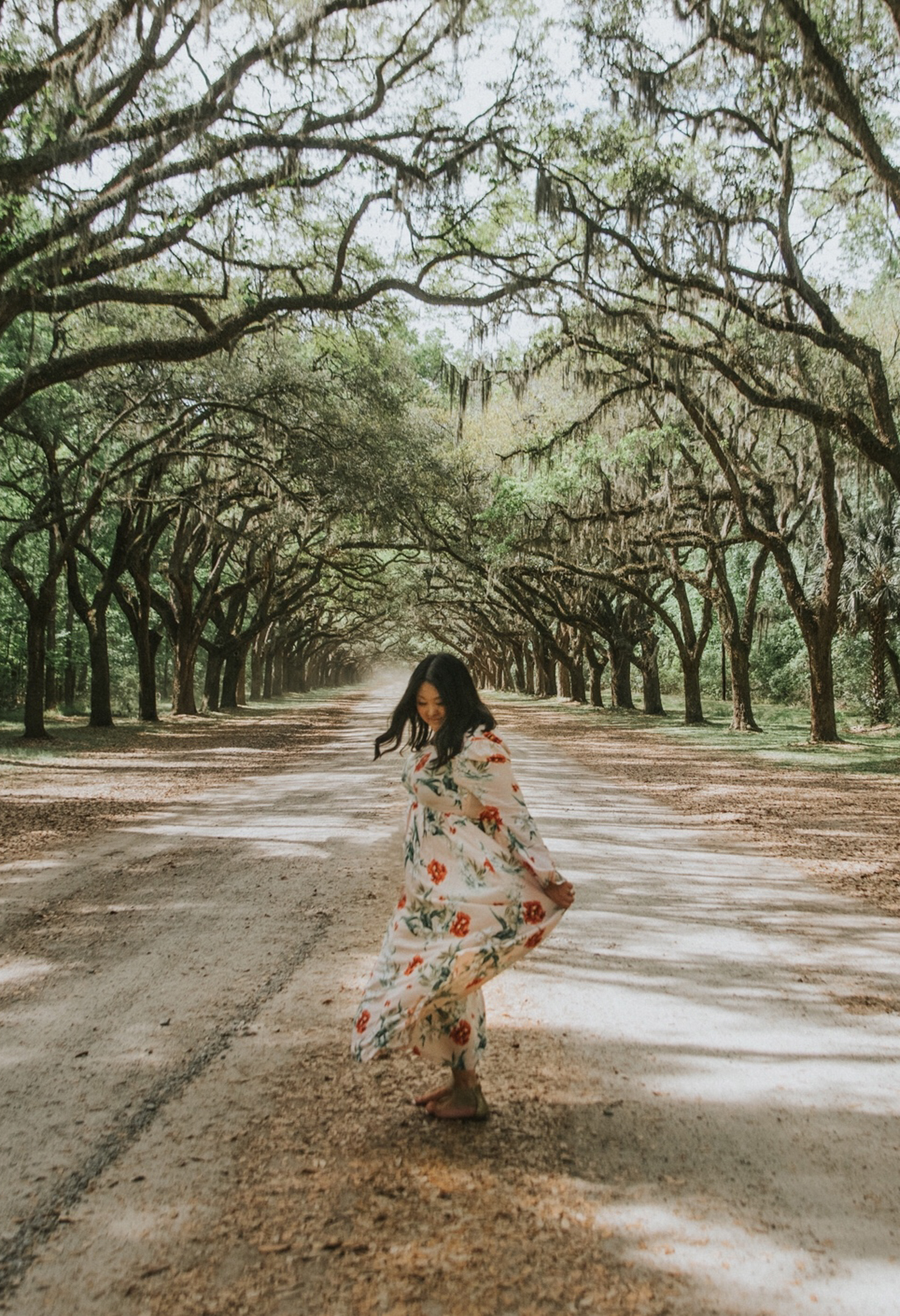 If you want to, do it for the photo (proudly).
Friends, if you want a cute photo of you or your family it's okay to intentionally pack/wear an outfit for a specific location or day. I knew that we wanted to visit this row of oaks in Savannah and loved the idea of this flowy, floral maxi there. Did I wear this dress for that purpose? Yep. Did I wear it romping through the woods on the grounds? Yep. While it doesn't need to be the focus of your trip, it's okay to dress for the photo opp without shame.
Tip #5-Be okay with wearing a cute outfit with a photo in mind. No shame in the game.
PS-Wasn't alone. While we were there someone showed up in full glam for a quick photo in front of the trees before heading into the museum. You're my kinda people.
Looking for versatility? Enter the shift.
There's nothing I love more than a great shift dress that you can dress up or down for any occasion. I recently found this one at Target and loved everything from the material to the color to the button down front. They're a great piece to bring along on a trip due to their versatility. Wear them with sneakers and a neck scarf for a more casual look or pair them with a leather jacket, heels, and a statement earring for an evening out. Again, they're a great piece to make sure is on the packing list when space is limited.
Tip #6-Make sure to take a couple pieces that can transition from day to evening seamlessly. Shift dresses are great for this since they come with endless options; pair with pants for a completely different look, go the long layers route with a long duster overtop, or keep it cozy with a slouchy sweater.
PS-A good shift can be tough to find. When I find a winner, I will grab it in every color available (this one also comes in a deep teal green color). This one was on sale for $23 recently so I got another one when this one inevitably gets red wine or red lipstick on it…it's 50/50 which one to be honest.
Forecast: mint with scattered ruffles.
Essentially I wore the same pair of white mules this entire trip. When they're comfortable and good with all of your outfits it's tough not to. This time they were the perfect finishing touch to this mint maxi dress. I usually avoid yellow because I don't love how it looks on me, but loved the little pop of sunshine in the mustard stripe at the bottom of this piece. The ruffle along the edges were the final stamp of approval for me. Without them, I think this dress would be more boxy than it was feminine. I saved for a morning when all we were really planning to do was breakfast out. While comfortable, maxis make me feel a bit limited by the end of the day so I wore on a morning where we wouldn't be doing a lot of traversing around. I skipped any accessories as I thought the dress spoke for itself…even though it's just a solid color, I felt like the subtle ruffles were the only accessory needed.
Tip #7-Regardless of where you're headed, take a good dress that has a bit more flair to it. You never know when brunch at a cute eatery, afternoon tea, or an impromptu dinner out will ask for a more elevated outfit.
PS-A tour trolley of folks watched Doug take this photo of me. I'm sure that's not what they were expecting when the tour guide pointed out this house to admire the iron railings/gate. Hi everyone :)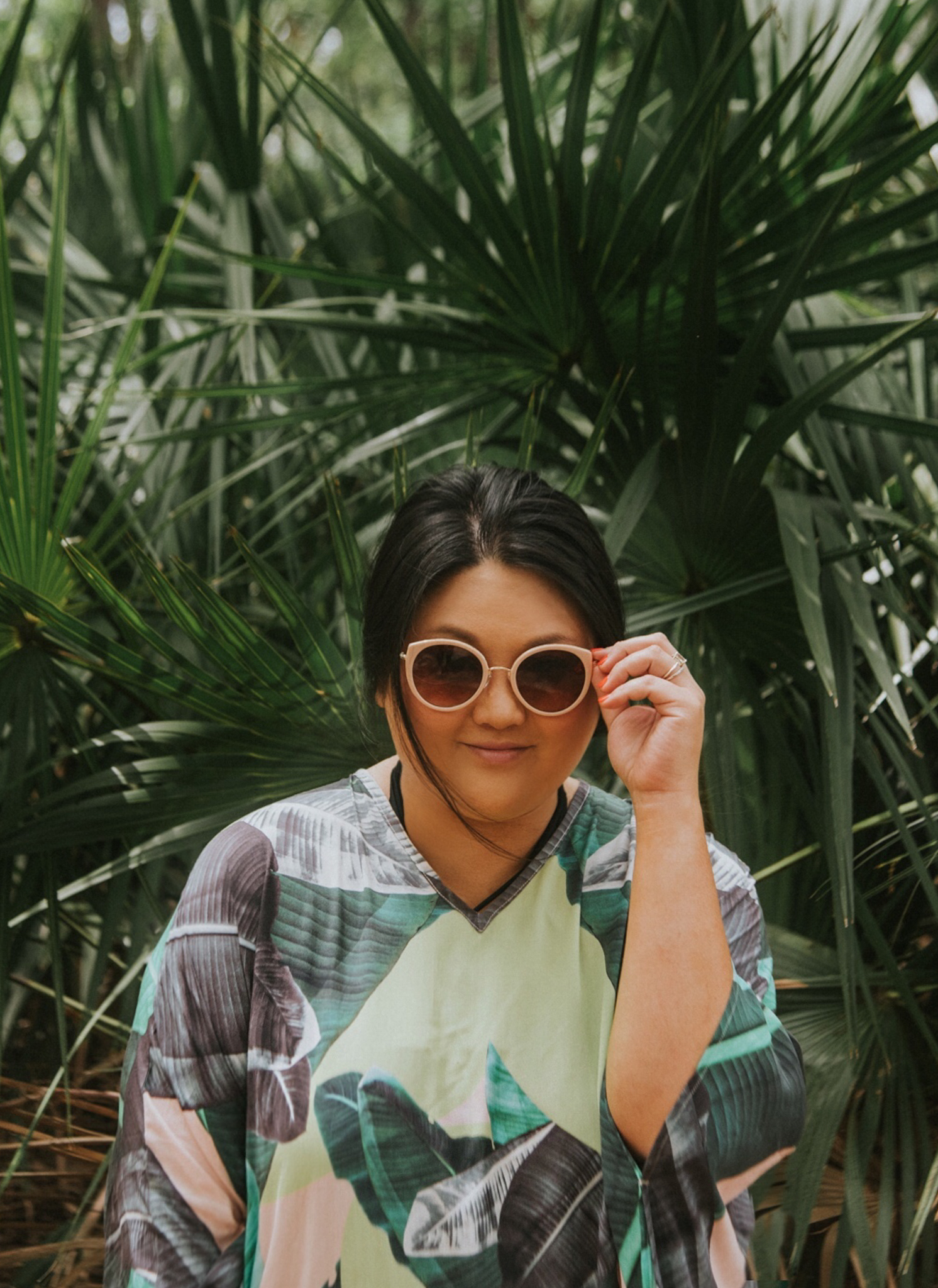 Cover up at the pool? Yep. Dinner dress? Yep.
When I'm headed somewhere warm where pool/beach activities will be happening, I always make sure to take at least one caftan that can be multi-use if it needs to be. One of the days that we were there was pool worthy but on the chillier side so this made the perfect coverup while there and walking around the resort for some outdoor activities. I ended up keeping it easy and wearing it to dinner that night. If you're like us, when you're in these ocean towns you're bound to do at least a meal or two al fresco. This tropical print maxi was the perfect vibe for the atmosphere/area.
Tip #8-Find a good caftan that has some shape to it and a fun print or sized. I have tried ones that are plain colors and the 'one size' situation and found them to be overwhelming and shapeless vs. cute and airy.
PS-I think that these sunnies are probably one of my most complimented items of all time. Thank you Anthro clearance bin for these $10 winners. Also this caftan is from Sseko Designs. If you don't know their story, check out my post on one of their ambassadors!
I hope that was helpful to you as you think about packing for your next travel adventure. Have trouble when it comes to packing or outfit planning? Let me know! I love a good travel quandary.
Sincerely,
Ashley