Farmacy Skincare Routine
If Old McDonald's farm had been this cool maybe I would have been more interested...
One of my favorite things is when I am wandering through a store and a brand's packaging makes me stop and check out their product. This is exactly what happened when I saw Farmacy for the first time. I found myself lost in the story of their farm, mission, and Echinacea GreenEnvy™ which is the plant that started it all.
There is much to love about Farmacy from the inside out. Their foundational premise of "farmer cultivated + scientist activated" allows them to be in harmony with both nature and formulas that truly make a difference when it comes to your skin's health. Their focus on sustainability, locality, and keeping their lines reaaally free (GMO free, mineral oil free, paraben free, phthalate free, artificial dye free, cruelty free) contribute to their conscious and intentional brand.
But back to the packaging that started it all...isn't that how a lot of great love stories begin? I love the design of their products from the overall look to functionality. Each jar comes with a mini scoop so that you aren't dipping your fingers into it each time which allows for a more hygienic experience. Don't worry, you won't lose them, they are magnetic so they stick to the top of the jar! Speaking of jars, each of them and their pretty wood tops can be easily repurposed for other fun uses.
I am so excited to be partnering with them to let you know about some of their products that have been super helpful to me. I know the skin care search can be an exhausting one since our skin reacts differently to everything we introduce it to. My goal is to fill you in on some of my favorite gems so that you can try them with insight.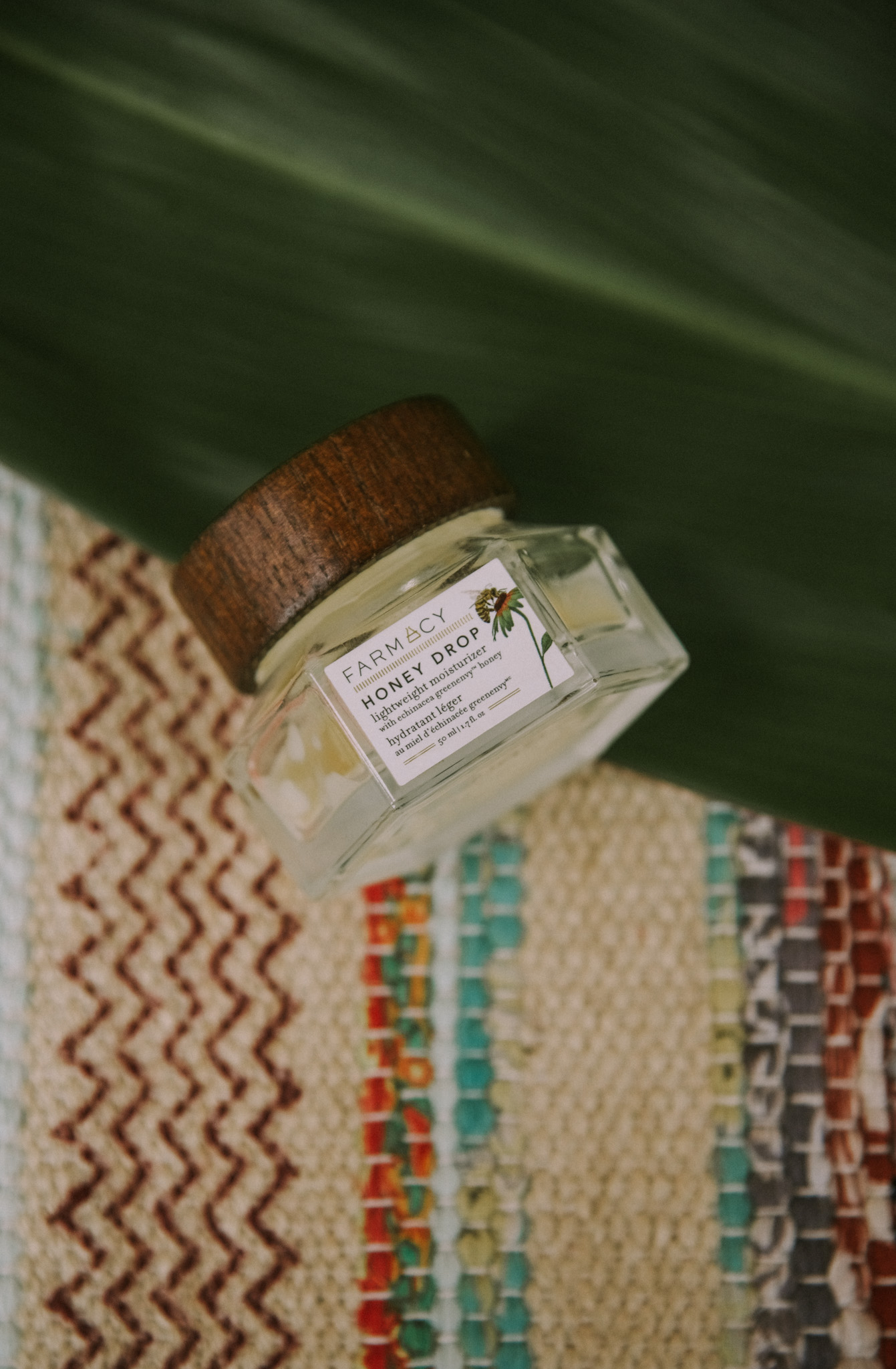 There's something really simple and lovely about this face lotion. It's really lightweight and glides on the skin almost like a gel. It's insanely hydrating...after I wash my face in the morning I put this on and then brush my teeth (slash maybe watch some IG stories) before I put any makeup on. It's like a really quenching drink for your skin.
VITALS:
• Triple hyaluronic acid complex holds up to 1000 times its weight in water=hydration station
• Six natural superfoods provide nutrients...fermented soy anyone?
• Golden Cupuacu Butter Beads from the Amazon melt into your skin for added hydration
This little bottle contains mask magic and rounds out the honey products. You apply this mask to clean skin from your jawline on up to your forehead. When you massage into your face, it transforms into a cream that you leave on for 15 minutes or so and then rinse. You're left with glowing, hydrated skin.
VITALS:
• Infused with natural antioxidants
• Contains propolis and aminco acide-rich jelly to target dry skin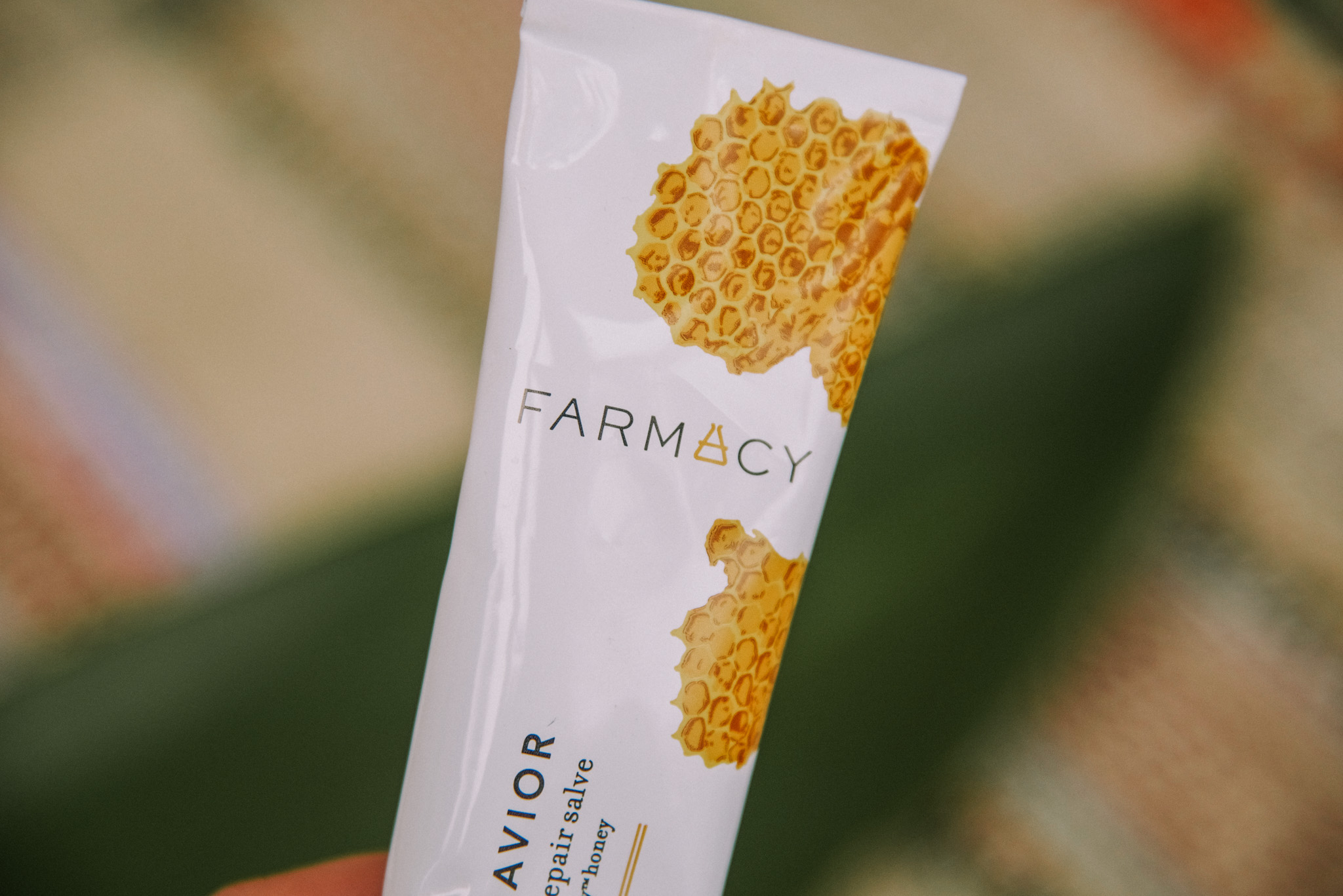 Honey Savior | Superhero Serum
This was the first Farmacy product that I tried and remains one of my favorites. I always have a tube of this in my bag since it's so versatile. You can use it on dry skin (#winterhands), as a lip balm, on minor cuts/irritations, and as a calming balm for static ridden hair. This is a multi-faceted, superhero level fix all.

VITALS:
• 132 nutrients including amino acids, antioxidants, and vitamins
• Contains Farmacy's Echinacea GreenEnvy™ honey which is an ancient, natural way to treat wounds and heal skin irritation from sunburn to scrapes.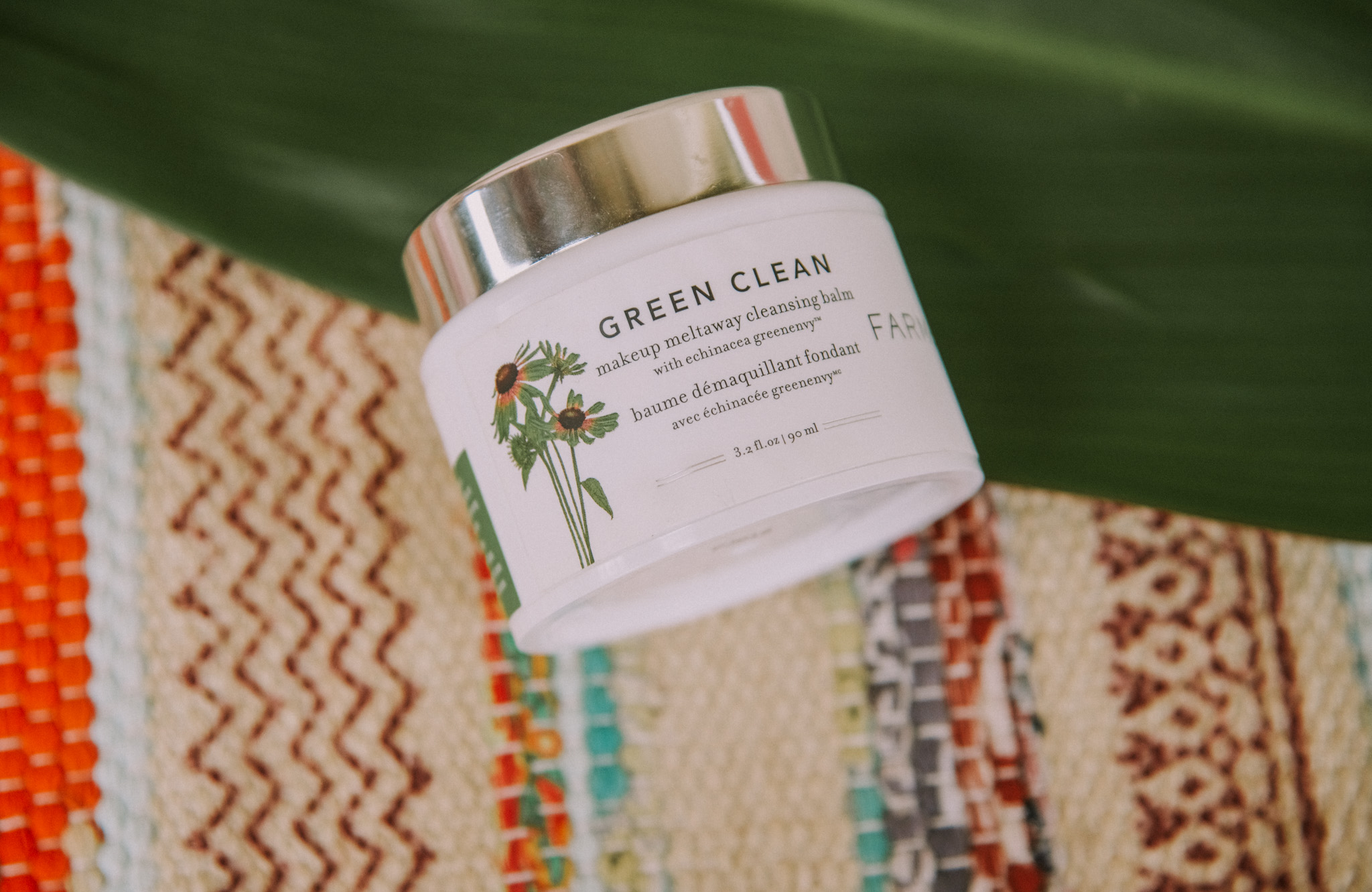 Green Clean | Makeup Remover
This is my new love. I have tried other makeup removers and weren't super happy with them...they would either leave my face feeling raw or wouldn't get the job done. Farmacy's Green Clean is dreamy. It flexes it's makeup removing muscle but is light, creamy, and smells amazing. It also tackles the unseen items that clog our skin from pollution to bacteria. I think what happens when you apply it is the best magic trick. What starts as a light mint balm quickly turns into an oil which then ends up in a more milky lather.
VITALS:
* Utilizes sunflower and ginger root oil to remove stubborn makeup along with Papain which is a natural enzyme found in papaya which exfoliates and retextures skin
• The yummy smell and texture come from a blend of essential oils: lime, bergamot, and orange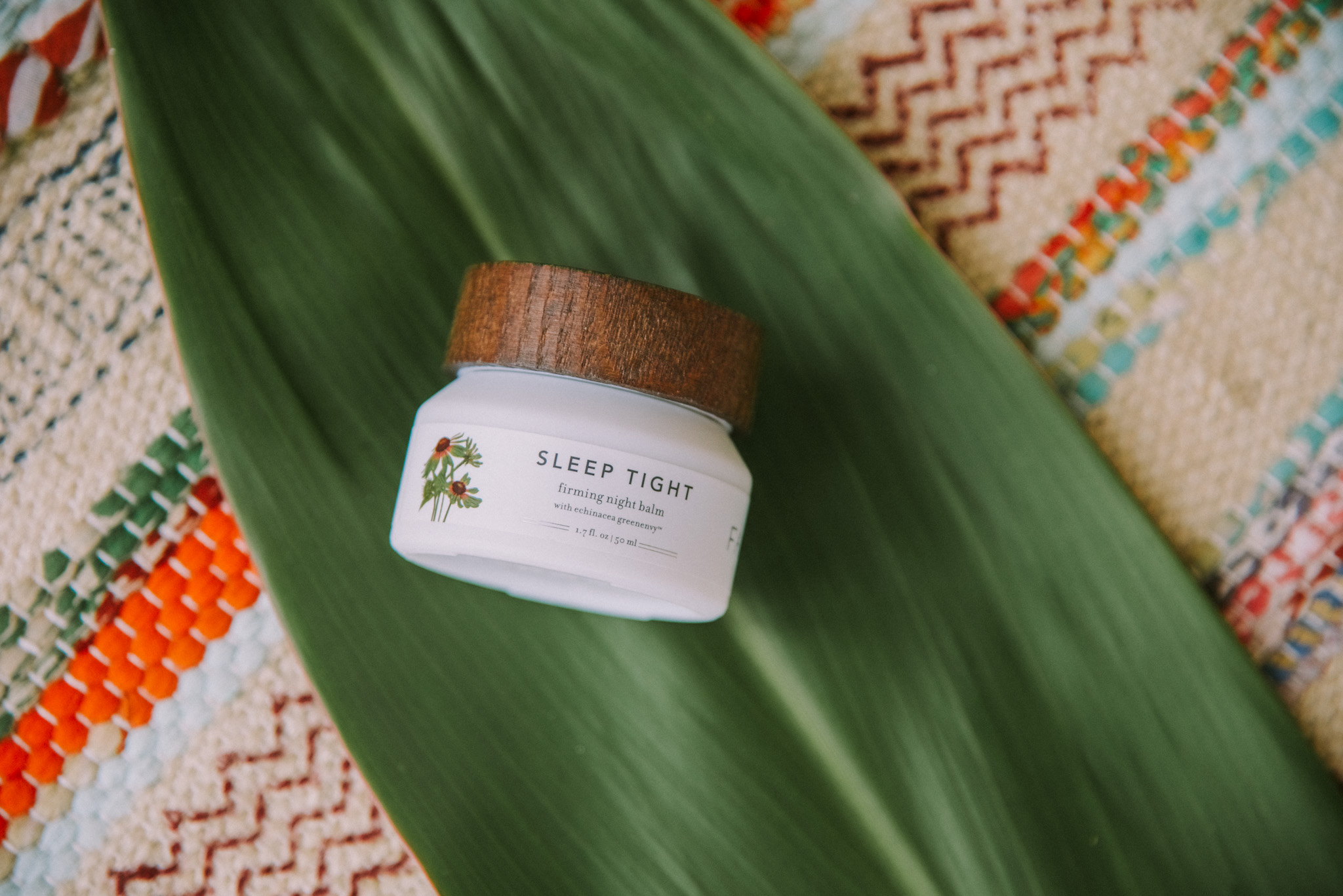 It's amazing what happens to your skin overnight when you apply intentional night formulas to it. This oil gel works throughout the night while you are catching zzzs to ensure that you wake up with softer more balanced skin. Grab a bit, warm up between your palms, and apply a light layer to your skin (a little bit goes a long way).
VITALS:
• Tackles aging with plant-based alternative to retinoids to reduce fine lines and wrinkles while restoring firmness; South African Acmella plant stimulates collagen production
• Contains blackcurrant seed, balloon vine extract, and sunflower oil
• Mixture of Vitamin C and natural antioxidants help you wake up with skin that is happier and healthier
Paisley Bell | Photo Assistant(ish)
Special thanks to my sweet photo assistant on this shoot: Paisley. I appreciate you walking over all the products while I was taking photos and the encouraging paw pats. You have amazing skills and will go far in your career little mama...
VITALS:
• Loves: down comforters, soft toys, pink tennis balls, and going for walks sans leash
• Hates: scratchy blankets, hard toys, non-pink tennis balls, and said leash
• Currently eating sliced cucumbers (no skins, duh), bananas, oatmeal, and soft serve vanilla ice cream when I'm feeling fancy.
Make sure to let me know if you have any questions on my Farmacy skincare routine. They're great-all of the vitals info is from their website...there is a lot of education available about each product so make sure to check it out.
 
WEBSITE: farmacybeauty.com
FACEBOOK: @farmacybeauty
INSTAGRAM: @farmacybeauty
Sincerely,
Ashley
*This post is in collaboration with the beautiful team at Farmacy but the content and opinions are my own.